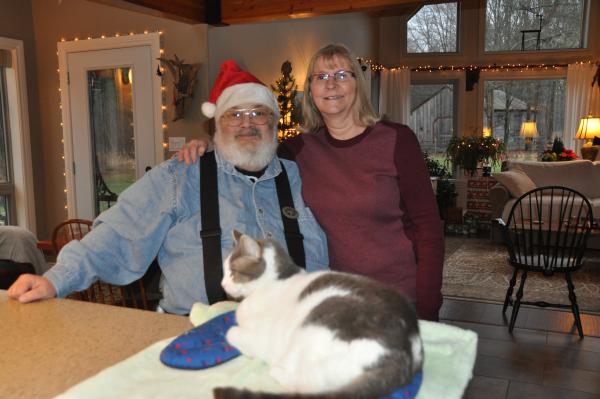 As I write this, 2014 is almost at an end. Each year that passes is a time for reflections of the past year.
I had an amazing year in 2014. We got to travel throughout the U.S.A. and Canada. Not only did we visit many historical sites, but we got to see relatives we haven't seen for years. Seeing different States and Provinces and the different topography's were absolutely amazing. I took so many pictures. We got to be experts with our trailer on setting up and dismantling as well. We had a few mishaps along the way; however we met amazing people who helped us out. What rich countries we have. We are so blessed to have been able to go coast to coast in Canada.
As well I went out to New Brunswick a couple of times during the year to visit my daughter, son-in-law and my four adorable grandchildren. One of the twins just started to walk yesterday! Now the trouble begins! My oldest started kindergarten. Time sure flies! In between visits we used Skype. Christmas day was amazing to watch the organized chaos!
My son and his wife welcomed their 2nd daughter early in November. She is such a sweet baby and her big sister loves her so and is very gentle with her. It was wonderful to hold her within an hour of her birth. You forget how tiny they are! I am feeling so blessed to have such amazing children and grandchildren.
I had a post Christmas gathering this year at my brother & wife's place near Brockville Ontario. It was so much fun to connect with direct and extended family and to see all the wee ones and a new one to be in 2015. Kids just make everything magical! Santa even made an appearance. I was so thankful to see an old friend who was in his 90's. It makes you appreciate the time we have been given to celebrate with family.
This year as well, has helped me to expand my business and I welcomed many new clients. It has been my privilege to have helped so many people to provide decrease in pain and greater relaxation. I have a few amazing clients who have been with me from the beginning and I enjoy watching their growth and insights.
I also added to my business by becoming an affiliate for Andrea Coulter's 'Wholistic Health Care.' I use her products and swear by the WINTER SURVIVOR KIT for keeping well, while all around me people are falling ill with flu and cold symptoms. There is one called the JUMPSTART KIT which can help with cravings. Are you a smoker and have tried everything else? Check out the Healing Kits here.
So from my family to yours Happy New Year! May you be blessed with love, joy and abundance of every kind in the New Year. Thank you to everyone who has touched our lives in 2014 and made it a richer one.
Yours in health,


Related Posts: