People fail at dieting. It takes too long to see meaningful results, and they require a lot of food preparation, discipline and cost. Plus, most diet products are expensive, taste terrible, and don't provide you with the support you need to be successful. Most diets are unhealthy, borrowing life and energy from your future.
I have personally used all these products & they are excellent. KetoPM is totally helping me to sleep. Best of all when I wake up in the night I can go back to sleep. I wake up feeling refreshed.
Here is my story: I tried Ketopia for 5 weeks last October/November. During that time, I lost 9.6 pounds plus a total of 5 inches off my body. This is pretty impressive for this short period of time. I could see more definition in my waist line and my muffin top was gone.
I went off this program during the holidays and went back to eating bread. This was a bad move on my part as not only did I gain some weight but also the handles were back. So now I am back on track. As I have a nursing reunion in September I want to look and feel my best. I had so much energy while on Ketopia.
It is such a simple product to use. An amazing KETONX drink (with multiple vitamins) in the morning puts you into ketosis. This is where the fat starts to burn off. Then you get a delicious bar called DOUGHbites two hours later. It contains vitamins, zero impact carbohydrates, fibre & prebiotics! A chocolate shake follows 3 hours later. You have a regular dinner with healthy fats, proteins and green vegetables.
So there is only one meal per day for you to make for yourself while on this program. How great is that! Contact me (Sue) at 519 668-2369 for your free sample of the KETONX drink.
I lost 7 lbs plus lost 1″ off my waist & 1/2″ off my hips. I bought more dough bites for a quick meal replacement as they are so good and filling. The Fixx shake is delicious.
We provide a simple system that tells you how to achieve nutritional ketosis.
We won't starve you.
Being in nutritional ketosis often means you have little to no hunger, which means you can be a decisive eater, not a compulsive one.
Energy doesn't lie. You'll know when you're there!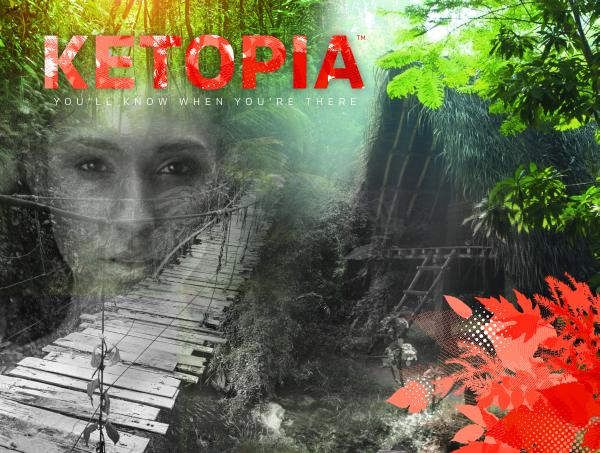 What is Nutritional Ketosis?
Burn Fat, Don't Abuse Carbs
Ketosis is a natural metabolic state where the body burns fat for most of its energy rather than carbohydrates. Fat offers the body more than 300 times the energy than carbohydrates. Typically, without several days of fasting or sticking to unrealistic diet plans, our bodies cannot reach ketosis and take advantage of this energy.
Ketopia is a lifestyle that features a 10-day weight management kickoff program. Ketopia features three products, including KetonX™, Dough Bites™, and FIXX®.

Ketopia is more than weight management. Knowing that health is a habit, not an event, Ketopia is about forming good habits that combine to create a lifestyle of optimal health. With Ketopia, it's manageable, delicious and exciting to regain control of your total body wellness.

KetonX™
Patented, Exclusive & University-Backed
KetonX is the raw blend of all the right ingredients mixed into a refreshing drink. In only a few hours, you'll be on the immediate path to nutritional ketosis and satiety. The exclusive scientific breakthroughs in KetonX offer a specific blend of natural ingredients that allows the body to begin converting to a state of nutritional ketosis within a matter of hours, not days!
The proprietary ingredients in KetonX were studied and developed at the University of South Florida by a world-renowned doctor. They are also patented and exclusive only to ForeverGreen.