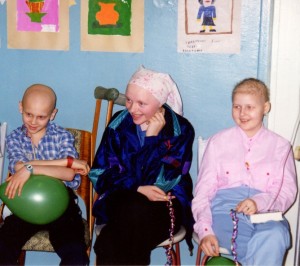 In 1992 I was part of a team that traveled to Minsk, Belarus (a country located between Poland and Russia.) We were there to work with the children who had been affected by Chernobyl. Even years later, the children continue to be affected by this disaster at the nuclear plant.
During our time there we traveled about an hour outside of Minsk, on a filled to capacity bus, to a children's Oncology unit of a hospital.
Here we presented a play program, which had been developed specifically to help the children. This was done by having some fun with us and their parents. There was much singing & dancing with streamers and other items specifically designed for them. They loved the guitar playing and especially songs created just for them. One young toddler was able to move her streamer up & down. We would watch their faces transform as they were able to start playing with us. Smiles were evident on the children and their parents as well, as they were able to forget for a while about their illnesses.
For those children who could not attend we would visit them at their bedsides and use our holistic skills of Therapeutic touch and Reiki. I visited a teenager who had just had surgery on his right leg and was in a great deal of pain. Through the use of Reiki I specifically worked on his leg and relieved him of most of his pain. His mother was so happy that she gave me some smoked fish as a thank you. Delicious!!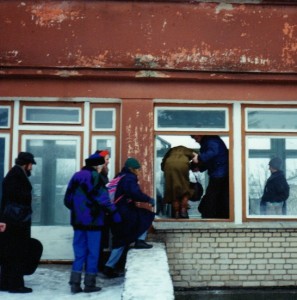 We returned the next day to the hospital. It was a Sunday, which proved to be problematic. The doors to the hospital were locked on Sundays. We were pondering what to do, when we saw one of the parents from the day before waving to us from the second floor, and pointing to a window. She came down to our level and opened a window. We were a pretty sight, crawling through the window with all our gear including the guitar!! So we were able to continue our program on this day too. It reminded me that there are always obstacles in life. You can let it stop you, or, you can look for a different solution. In our case it was to look for a different way into the hospital. It also reminded me that sometimes we need to ask for, and to receive help.
On our way back to Minsk, our team began to sing Christmas Carols. We sang for an hour. Usually people on these buses do not talk to one another. This day they did. There was much laughter, smiling and generally good will. We were gifted with apples and other little gifts as a thank you. It was truly a magical time! This was a time, which I have never forgotten and a reminder that we can all make a difference.
When we returned home we all received grateful letters from Minsk, saying that all the children had been pain free for two days. This was so gratifying. Not only that, but they were designing a play program similar to ours. So not only had we specifically helped these children, but children who would come in the future.
I want to wish you all a very Merry Christmas. Hug your little ones close and enjoy the wonder that each and every child brings to this world.
Related Posts: