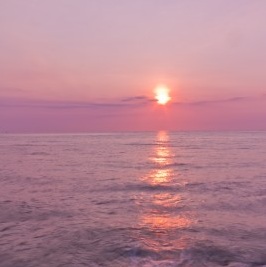 Reiki: pronounced (Ray Key) comes from the Japanese word for "Universal Life Force Energy." It is an ancient healing art which originated in Tibet. It was rediscovered in Japan in the mid 19th century. Reiki is holistic, a form of hands on healing. It works on the body, mind and spirit by stimulating a persons own natural healing abilities. The blocked emotional and physical elements that lead to illness and disease are cleared. Reiki uses the same energy as Tai Chi, yoga, or acupuncture. It is pure unconditional love and joy.
I discovered reiki in a time in my life which had much chaos. As a psychiatric nurse working shift work, I was physically exhausted and had developed migraines. To add to this I was to have major surgery. My sister-in-law introduced me to reiki and gave me treatments before and after the surgery. The Doctors were amazed at my recovery. So, I too, learned the techniques of reiki. My migraines disappeared and I physically, emotionally and spiritually became stronger. Because I felt so much better, I began to offer reiki treatments to others and it evolved into a business which has brought me great rewards over the years. I was able to incorporate reiki into my nursing practice which was beneficial for clients with addictions and mental health issues.
I have over 40 years experience as a nurse, helping people with psychological support for physical and emotional experiences in their past or present.
What to expect during a treatment
During a treatment you are fully clothed, on a therapeutic table. You may start to feel some warmth throughout your body as the therapist works. A feeling of relaxation, peace and release of energy blocks often occurs. Reiki assists in pain reduction and the healing of physical symptoms. It releases stress and helps to relax the body. It helps you to feel mentally clearer. Reiki complements regular health care.
There is also a salt lamp (with blue bulb) in the room. The colour blue is good at relieving pain. The salt lamp helps with respiratory issues, asthma, COPD, chronic cough, chronic ear infections, croup, sinusitis and rhinitis, bronchial diseases, throat infections, chronic runny nose, snoring and sleep problems, cleansing and purification of the respiratory system.